[fusion_builder_container hundred_percent="yes" overflow="visible"][fusion_builder_row][fusion_builder_column type="1_1″ background_position="left top" background_color="" border_size="" border_color="" border_style="solid" spacing="yes" background_image="" background_repeat="no-repeat" padding="" margin_top="0px" margin_bottom="0px" class="" id="" animation_type="" animation_speed="0.3″ animation_direction="left" hide_on_mobile="no" center_content="no" min_height="none"][fusion_text]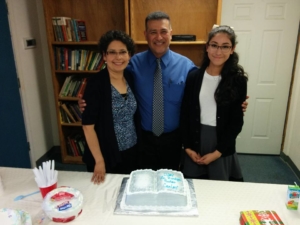 Carlos, Issa and daughter, Rebecca – taken in August of 2016.
According to recent statistics, over 56 million Hispanics live in the U.S. That's more than the entire population of Central America (that's 7 countries.) In fact, the Hispanic population surpassed the Anglo population in California in 2014. It's undeniable – the mission field has certainly come to America!
One part of that vast mission field is in Hayward, CA where BCP missionaries, Carlos and Issa Vasquez, serve in the ministry of Iglesia Bíblica la Roca – Bautista Independiente. This church plant presently meets on Sunday afternoons in the facilities of an English-speaking church, Fairway Park Baptist Church in Hayward. By sharing the facilities, both ministries can better serve the growing mission field all around them.
Many of you have been praying for Issa as she deals with her third bout of cancer. They are rejoicing in God's mercy as she is presently continuing her chemotherapy treatments and the tumors have somewhat visibly diminished. In addition to leading the church plant, Carlos works as a dental hygienist, so they both especially need our prayers during these challenging days.
Please pray that:
1) their family will have God's peace and encouragement in the midst of trials (son – Daniel and daughter – Rebecca).
2) Carlos and Issa will have wisdom to handle ministry challenges during these personally difficult days.
3) the church leaders will have direction and wisdom to lead the church family.
4) the church family will be completely committed to the cause of Christ and His ministry.
To send your personal words of encouragement, please email Carlos and Issa at Carlos.issa.vasquez@gmail.com.
[/fusion_text][/fusion_builder_column][fusion_builder_column type="1_1″ background_position="left top" background_color="" border_size="" border_color="" border_style="solid" spacing="yes" background_image="" background_repeat="no-repeat" padding="" margin_top="0px" margin_bottom="0px" class="" id="" animation_type="" animation_speed="0.3″ animation_direction="left" hide_on_mobile="no" center_content="no" min_height="none"][fusion_images picture_size="auto" hover_type="liftup" autoplay="yes" columns="3″ column_spacing="13″ scroll_items="" show_nav="yes" mouse_scroll="no" border="yes" lightbox="yes" class="" id=""][fusion_image link="" linktarget="_self" image="https://bcpusa.org/wp-content/uploads/Hispanic-Ministries-4-300×200.jpg" alt=""/][fusion_image link="" linktarget="_self" image="https://bcpusa.org/wp-content/uploads/Hispanic-Ministries-6-300×200.jpg" alt=""/][fusion_image link="" linktarget="_self" image="https://bcpusa.org/wp-content/uploads/SEPT-2016-2-300×300.jpg" alt=""/][fusion_image link="" linktarget="_self" image="https://bcpusa.org/wp-content/uploads/SEPT-2016-1-1-300×300.jpg" alt=""/][fusion_image link="" linktarget="_self" image="https://bcpusa.org/wp-content/uploads/MAY-2017-300×225.jpg" alt=""/][/fusion_images][/fusion_builder_column][/fusion_builder_row][/fusion_builder_container]