Don and Joyce Shade serve as Tentmakers at Crossroads Baptist Church in Tracy, CA.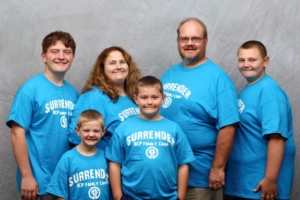 Tentmakers are mature lay people who are financially self-supported and led of the Lord to aid missionaries and church plants. Don drives truck for Costco Wholesale, and Joyce teaches high school chemistry and physics, but they, with their boys Richie, Lee, Benny and John, are an integral part of the church planting team with missionaries Tim and Susan Heinrich. Don serves as the only deacon right now, teaches the adult Sunday school class and is the head usher.  He is also the church Treasurer, and Joyce is the Financial Secretary right now.  They both assist Tim and Susan in men's and women's ministries. Joyce also works with the children's ministries.  Don taught the Junior class and Joyce taught the science lesson in this year's VBS.
They shared that they "are really excited at the growth of the church in the last 18 months.  We continue to see spiritual growth of the members as well as numeric growth.  The church is planning to start a future facilities team at the next church family meeting."  Don and Joyce are both involved in their community. Don coaches baseball and soccer and manages the sports' snack bar at the elementary school.  Joyce is involved with the robotics teams at the high school and works with the music boosters at another high school!  We praise the Lord for these faithful servants!  Please pray for them!