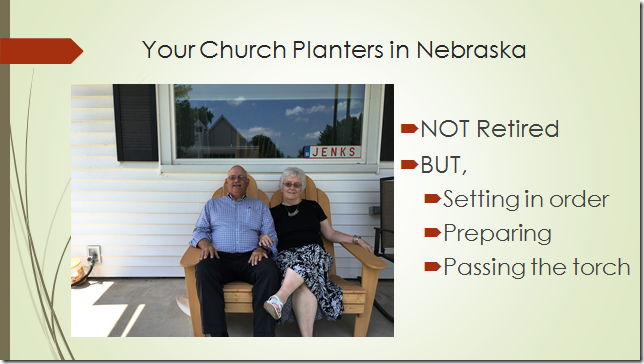 It is so exciting to follow God's plan and see what he can do with an older couple whose peer group is all retiring. Two years ago Peter agreed to be the interim pastor at Victory Baptist Church in Fullerton, Nebraska and Grace Baptist Church in Genoa, Nebraska following the sudden death of their church planter, Roy Cupples.  After a year of filling the pulpit and searching for a pastor, it became evident that neither church was ready for that step.  God in His wisdom intervened and prompted us to say yes to Him and to the churches if they wanted Peter to come as their church planter.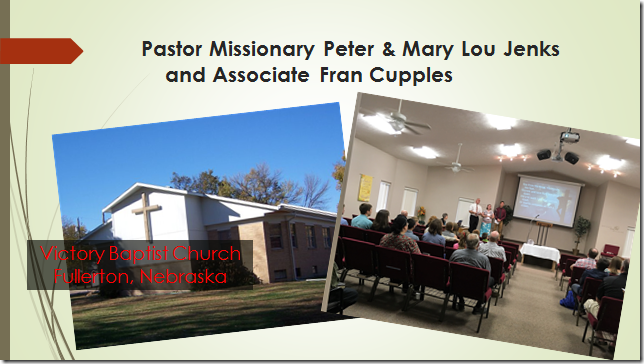 At Victory Baptist the goal was to grow the people in number and spiritually. At present the deacons and Peter are in a nine month leadership training program with Jonathan Jenks.  It has been exciting to see growth in them and then see them think of others that they could disciple.  This attitude filters down through families and the church body.  Just recently the church voted to take on 30% of the support of young lady that will be doing an eleven month ministry to college students in Croatia.  Wow, one of our own going into missions!  Does it get any better than that?
In September we will be resuming our couples Bible study using Dr. Michael Peck's book Pardon the Dust, My Marriage is Still Under Construction.  We have been doing this in both Fullerton and Genoa with amazing results.  We've had both church and community folk and young and old couples attend.  Also starting up will be our monthly movie night at Grace.  It has been a good outreach tool in that community.
We can't neglect to tell you about JOY Club. Because of our proximity to the Nebraska Association's camp, we are able to reap the benefits of their Day Camp.  This year 105 attended this camp.  Because of this Fullerton will have close to 40 clubbers and Genoa as many as 20.  This far exceeds our Sunday School attendance.  In Fullerton the youth ministry is active and far outnumbers the teens we normally see on Sunday.  What an amazing outreach to communities that have no other Gospel ministry.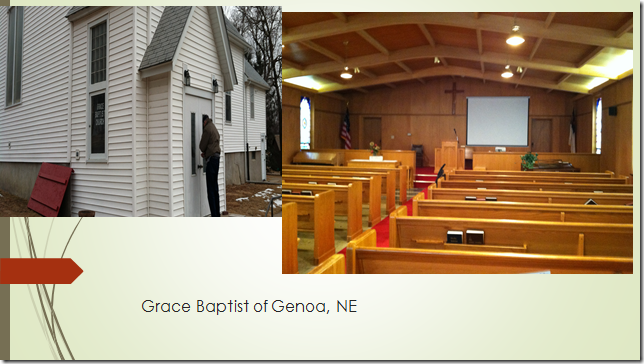 While Victory's goal is to support their own pastor, Grace Baptist, a church plant of Victory Baptist has other needs and goals. Currently we are meeting in a Congregational church that has no congregation, but desires the building to continue as a church.  We are praying and working toward obtaining this building.  We also are praying for growth in the congregation of 25 so that we can move from a fellowship to church status.
Besides wonderful congregations to work with, we are blessed to have Fran Cupples, Roy's wife, as our associate church planter. She is gifted in so many ways and continues to serve in many capacities; music, bulletin, ladies Bible study, JOY Club leader and visitation to name a few.  God has given us a very special team.