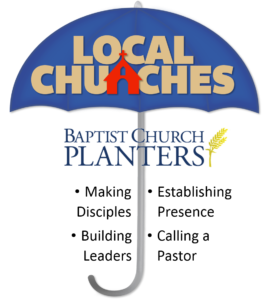 In a previous article we explored the Purpose of Partnership as we brought out the New Testament teaching as the foundation of BCP's philosophy of ministry.  This governs how we view an agency's relationship with church planters/revitalizers and local churches. In this installment we want to expose the Products and Pieces of Partnership by exploring the New Testament precedent for churches partnering together with church planters in advancing the Gospel.
Philippians once again informs our thinking as we consider Paul's relationship with the Philippian church. Philippians 1:5 and 7 highlight the church's partnership and in chapter 4 the individual relationship the church adopted in helping Paul by sending Epaphroditus to help him in the advancement of the Gospel. However, if we dig a bit deeper in the NT narrative, we will discover that there were groups of churches who partnered with Paul in his attempt to spread the Gospel throughout Central and Western Europe as well as Asia.
Galatians gives us a glimpse of such a partnership as Paul describes his affiliation with them in Galatians 1:2, "and all the brothers who are with me, to the churches of Galatia…" Again Paul associated and partnered with area churches when writing to the Colossian church in Colossians 1:2. He mentions also the church at Laodicea in 2:1 and again with the church in Hierapolis in Colossians 4:13. It seems that Paul was in the habit of working with various churches (most of whom he planted) for the sake of the Gospel. These biblical examples fall into two categories – partnerships with individual churches (Philippi) and partnerships with groups of churches (the region of Galatia), all for the sake of the Gospel.
How then does this interactive relationship impact modern-day church planters/revitalizers? How does it affect their approach to ministry?  One example, among many, is in upstate New York where BCP is facilitating the revitalization of a church. The church planter has met with pastors from five different churches within the greater Jerusalem/Judea (approx. 50-mile radius) who have an interest in the revitalization of this church and who want to help the church planter. Besides the pastor of the missionary's sending church, the church planter knows he has a working partnership with these five other pastors.
Three of the five sister churches financially support the church planter. One pastor is working to help the young church planter with a preaching calendar; another is giving counsel and guidance over issues which come up within the church revitalization. Periodically these pastors all meet to pray and see how they can help. The church planter knows he can call upon any of these pastors to provide pulpit supply, promote workdays if projects are needed at the revitalization church, or help meet any other needs as they arise. In this way, the revitalization of this church is a "field" project, not just a mission agency project.
As you can see, there are some very practical benefits to partnering with local and area churches in advancing the Gospel. How about you? Is your church ready to partner with other churches to help start a new church or revitalize a declining church in your greater Jerusalem? Pastor, has God gifted you to be a "revitalizer"? If so, God will provide the necessary resources and partnerships in order for you to revitalize a declining church.
So far we have learned a couple valuable lessons regarding partnerships:
Partnerships are based on Relationships.

Partnerships provide additional Resources for ministry.
In our next article we will be exploring the Profitability of Partnerships as we look at the individual church planter's role in fostering church and individual partnerships and the benefits that ensue.
If you would like more information or just want to explore the possibility, please feel free to contact Tim Weeks at tweeks@bcpusa.org.