"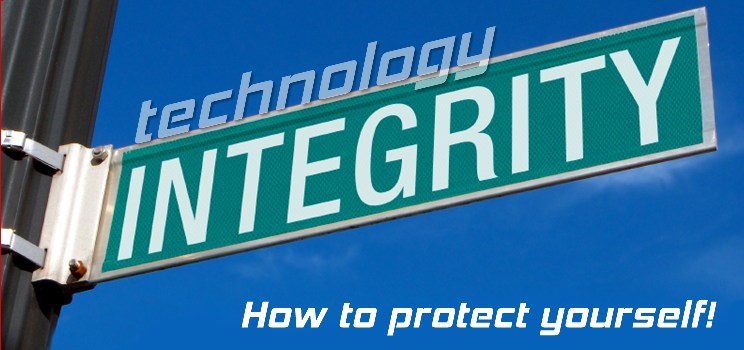 I've learned that you can't hide a piece of broccoli in your glass of milk," a 7-year- old said. You can, but only for a little while!  With such a creative world we live in, there are so many tools to help you NOT be who you really are, or to NOT leave any trace of where you have been or what you have seen.  
"Integrity is doing the right thing, even when no one is watching" (C.S. Lewis).  When using technology, you are usually in private with your personal devices, and no one is keeping you accountable.  It is vital that you be a person of integrity as you use technology. Psalm 25:21 says, "May integrity and uprightness protect me, because my hope is in You."  Being who you say you are (quick definition of integrity) will PROTECT you on this journey you are on.
Watch this video to get a great illustration of how kids respond when no one is watching: https://vimeo.com/6149742.  This video helps us understand that there are consequences and rewards for following the truth and living a life of integrity.  Immediate satisfaction leaves you empty, and technology can easily fill you up but will, in the end, leave you empty.
Another great verse to apply to this matter of integrity in technology use is I Corinthians 6:12, "All things are lawful for me, but not all things are profitable.  All things are lawful for me, but I will not be mastered by anything" (NASB).  Typically the results of your life are the combination of the ingredients you put into it, and integrity helps you put in good ingredients to produce a fruitful life.  There is much available through technology that will add to your life, but there is much that will make you unproductive and even destroy you.  Using technology with integrity means you control the ingredients.
There are strategies that you can implement that will help you protect yourself, family and church.  We suggest that you use some kind of internet filtering or accountability software, along with placement of the computer screens so others can see what you are looking at.  Have someone else know your passwords and have to enter them in for you to download anything or access internet content.  I personally have my accountability partners able to see all the content I view on the web, see all my text messages, and get updates on my activities.  At times it is annoying to have to ask for help or have someone type in a password so I can access configurations or downloads, etc., but maintaining my integrity is worth it!  Feel free to contact techPartner for more info on specific tools to use for your needs, but we suggest starting with www.opendns.com/safeeyes.com/3xwatch/phonebeagle.  
You must desire integrity (Prov. 22:1) and associate with godly men and women (Prov. 13:20) and ask for help when you need it (Ps 51:10).