Chalco Hills Baptist Church

started in 2009 with less than 20 people in regular attendance. On August 21st we experienced our highest attended service that was not a special event with 52 people on a Sunday morning!

Several new families have become a regular part of our ministry just over this summer. Please pray they would continue to attend and become plugged into ministry.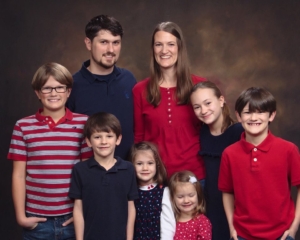 One of the new families started coming after a young couple invited them to Vacation Bible School.  They had never been a part of a church before.  After meeting our people and hearing the teaching of the Bible, the husband began listening to our sermons online while at work.  Though we are across town from them, they have been faithfully attending ever since.
In July we shared a baptismal service with our mother church, Gretna Baptist Church.  It was encouraging to see two adults and five children from our group be baptized.  One of the highlights for this service for our family was a surprise baptism that took place.  About an hour before we left for church, our ten-year-old son, Elijah, told me he wanted to be baptized.  He shared that he had made a decision to trust in Christ at camp the week before.  After discussing with him, I was comfortable that his conversion was genuine.  Our deacons heard his testimony and agreed.  With one hour notice, Elijah was able to join the group being baptized, including our daughter, Ruby.  In the book of Acts people didn't wait very long, so I guess it makes sense to the same today.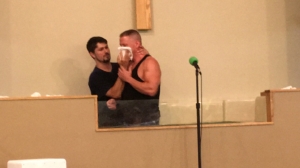 During the month of September, we had a couple of opportunities to introduce ourselves to our community.  The first activity was called Family Fun Night. We rented a 25-foot inflatable movie screen and showed Inside Out in our neighborhood playground.  We provided popcorn, cotton candy and something to drink.  To introduce ourselves, we showed a two-minute video before the movie.  We had a wonderful turn-out of 100 people!
The second opportunity is that our praise team was invited to sing the National Anthem for the home opener for a local hockey team, the Omaha Lancers.  It was a fun time for our memebers to enjoy together outside the church.
We are excited to be used by God in fulfilling the Great Commission of Jesus Christ to make more and better disciples.  Please pray for further connection with our community.